Why Outside Learning?
There is increasing research worldwide into the benefits of natural outdoor play. These findings include improved physical and mental health and increased skill development. Increasing research tells us children who play regularly in natural settings are sick less often, have improved immunity, eye health and Vitamin D levels. They are more physically active with improved dexterity and physical strength. They have improved spatial awareness and risk negotiation ability. Their play is more diverse, imaginative and creative. Children have improved awareness, reasoning, observational, critical thinking and problem-solving skills. Children are more resilient, are more resistant to stress, anxiety is reduced. Mental health is improved, mood is lifted and children have a higher measure of self-worth. They have improved language and collaboration skills and more positive feelings about each other – bullying is reduced. There have been benefits found for children who can't self-regulate.
Outdoor learning in natural environments finds strong support in our Early Years Learning Framework. "Outdoor learning spaces are a feature of Australian learning environments. They offer a vast array of possibilities not available indoors… These spaces invite open-ended interactions, spontaneity, risk-taking, exploration, discovery and connection with nature. They foster an appreciation of the natural environment, develop environmental awareness and provide a platform for ongoing environmental education." EYLF: Learning environments, pages 15-16
Identity. Children develop a sense of security with familiarity. Regular sessions learning outdoors helps children build and explore their identity.
Community. Through firsthand experience children develop an awareness of their impact on the local environment and can get involved in caring for nature.
Wellbeing. Regular contact with nature relieves children's minds and ignites curiosity. Outdoor environments allow children to expand and refine their abilities, mentally and physically.
Learning. Ever changing outdoor environments invite hypothesising, imagination, interaction, problem solving and experimenting.
Communication. Children can share stories, use natural materials to create art and interact with each other and their surroundings to create drama and music.
A child's ability to access nature and learn outdoors is fundamental within the National Quality Framework. National Quality Standards for Early Childhood Learning outdoors promotes a child's health (Quality Standard 2) through relaxation, physical activity and spontaneous experiences. By placing children in a natural outdoor setting (Quality Standard 3), they have the opportunity for independent exploration and to participate in real-life projects and care for the environment they live in.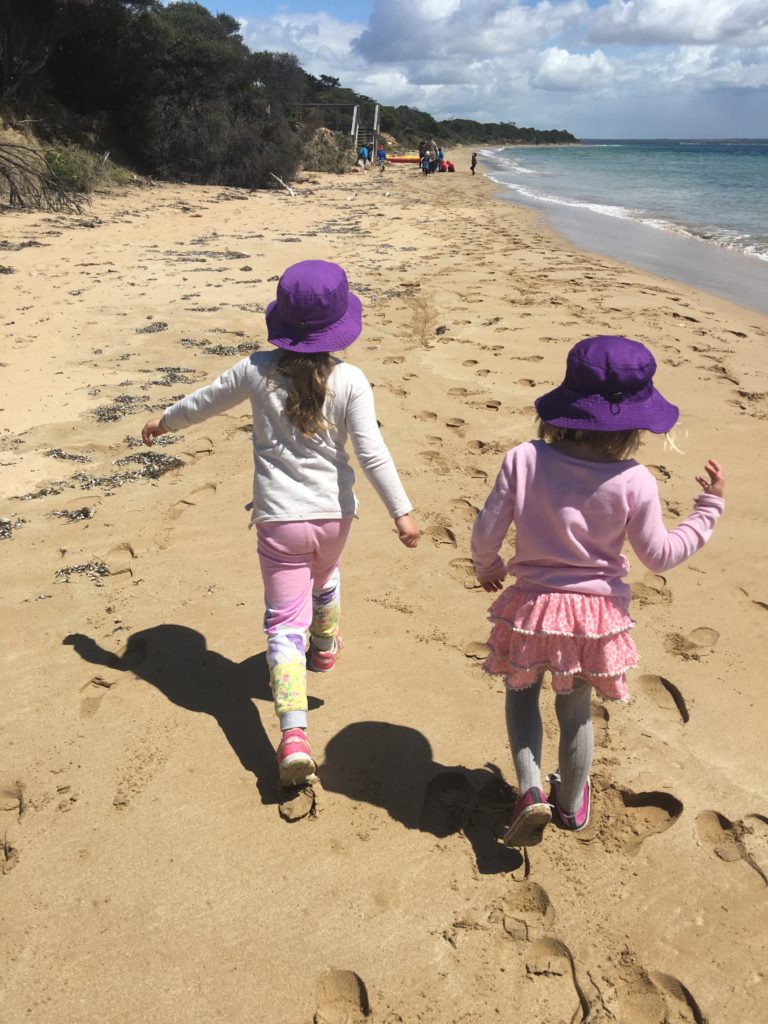 Philosophical Values
At Sorrento Preschool we believe –
Children are competent capable citizens so should be in an environment that fosters their individual sense of wonder, natural curiosity, independence, resilience, and gives them the time to be who they are, to observe, practice, learn and achieve
Children are global citizens with connection to nature and community and are stewards for the environment, now and in the future
Children learn and develop best when they feel safe, secure, supported, connected, included and trusted; and feel free to explore, experiment and challenge themselves
Educators travel alongside children on their learning journeys, they encourage, support and scaffold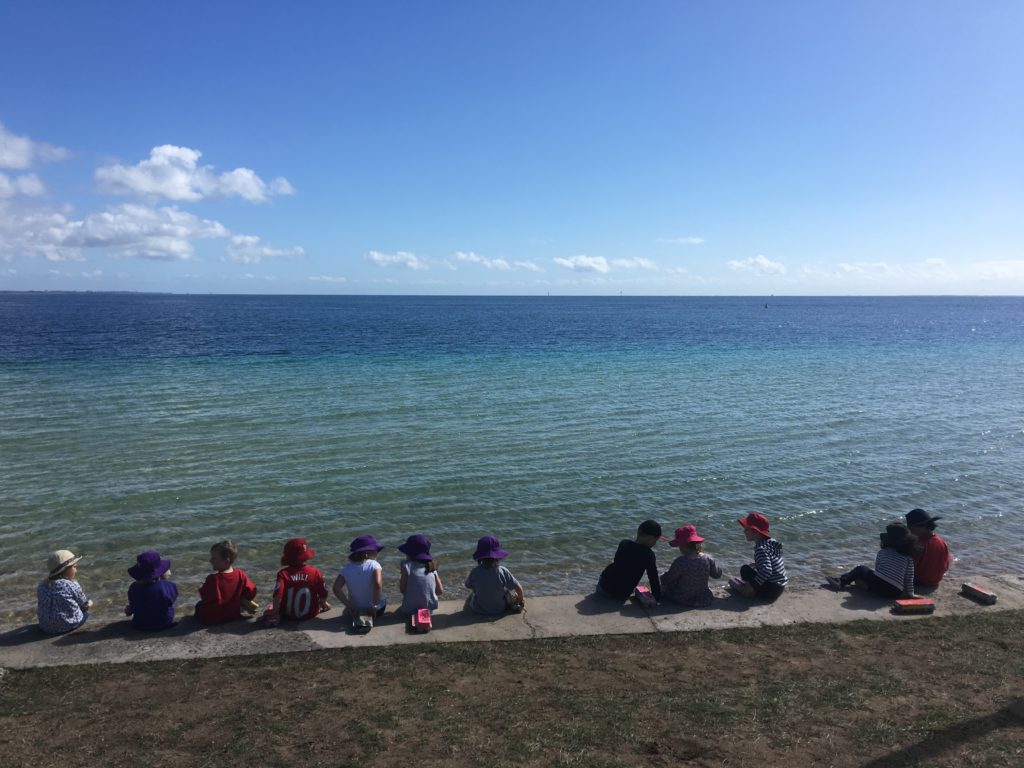 Vision and Intention
To provide an integrated holistic approach to teaching and learning
To encourage an appreciation for the natural environment
To inspire, challenge and assist children to build upon their skills, to support them to push through barriers, to think about alternative strategies
To encourage an appreciation for traditional land owners
To support children to become interactive learners, to experiment and develop independent thinking .
To connect with nature and with community
To foster creativity, independence, resilience
To support deep understanding and knowing from a systems perspective – understanding the interdependence and relationships in systems – hence local and world sustainability.
To provide children with time to be, to be free to climb trees if they feel capable, to splash in water if they want to..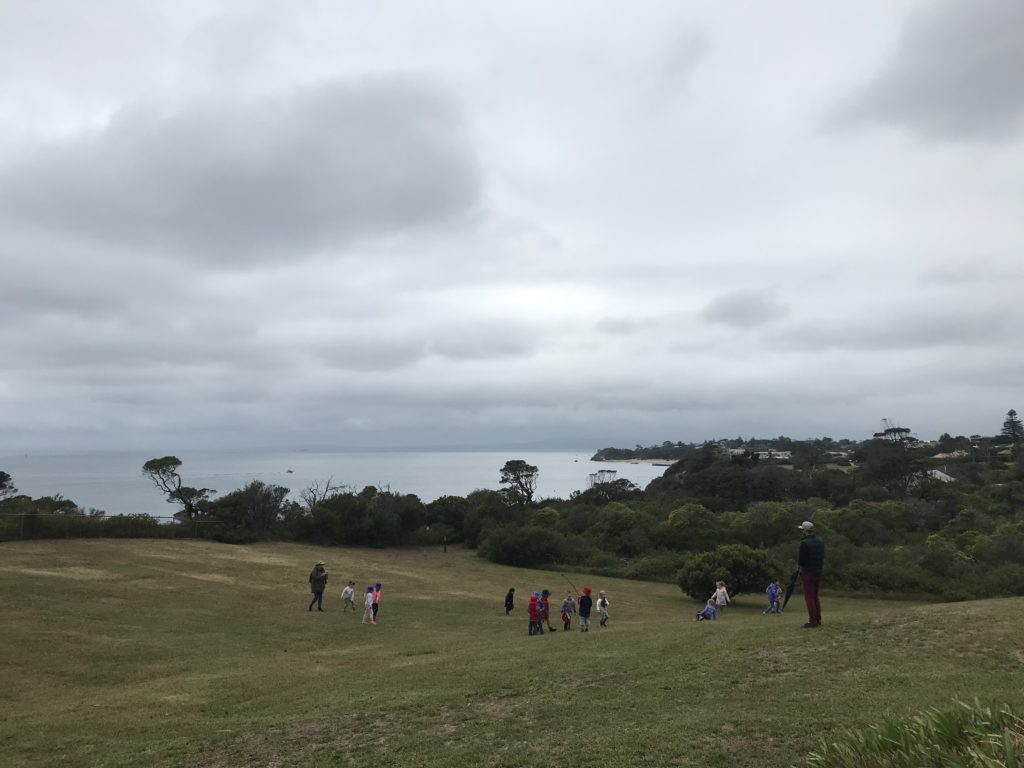 Location
Our Bush'n'Beach kinder is held at the Quarantine Station, Point Nepean National Park, Portsea. We meet at our "home base" – the shed next to the Quarantine Station carpark. Point Nepean is an 8-10 minute drive from the preschool. Our home base provides both shelter and space, opportunity for the children to freely explore with clear sightlines for adults and natural boundaries. The park offers opportunity to expand into new spaces as the childrens familiarity and interest grows.
Point Nepean is a unique park that offers natural play spaces with close proximity to facilities and shelter. The space offers exploration of bush and beach, a variety of indigenous flora and fauna, Bunurong and early settlers history, a working relationship with rangers and easily identified natural boundaries.